Welcome to Shōjo Manga Wiki.
The Wiki that anyone can edit.
Please look over our policies before editing.
We are currently editing over 62 articles, and 457 files since November 20, 2012.
Welcome to Shōjo Manga Wiki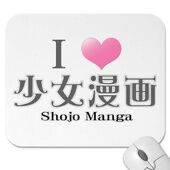 Shōjo Manga Wiki is an encyclopedia and wiki hub about shōjo or "girls" manga. This includes series, genres, authors and artists, and much more. We also cover josei manga and any other manga aimed specifically at girls. The wiki is public and it's format allows anyone to create or edit articles, so we can all work to make a comprehensive database.

About this wiki...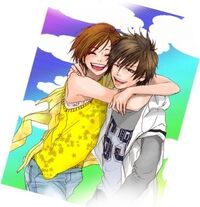 Don't know anything about how to edit? Here are some guides that can be helpful for you: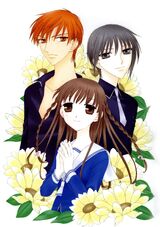 Don't know how to help or improve this wiki? Here are some links that can guide you:
Here at Shōjo Manga Wiki we have some rules for the users behavior and edits. Follow this small list of rules and you will have a great time here:
Foul language is not allowed under any circumstances.
Illegal content is forbidden on the Wiki.
Vandalism will result in an immediate and one week ban.
All of the pages should include real, factual content.
If the edits you make do not provide anything to the wiki, you'll be warned.
If you continue with those edits, you'll be banned.
Browse
About shōjo manga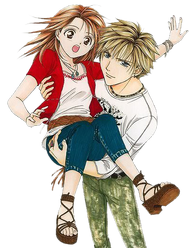 Shōjo, shojo, or shoujo manga (少女漫画 shōjo manga) is manga demographic aimed at a female audience, particularly those between the ages of ten to eighteen. Shōjo manga covers many genres, including magical girl, science fiction, historical drama, etc. However, shōjo manga almost always focuses on romance, and human relations.
Shōjo manga is typically serialized in magazines, such as Ribon or Ciao, before being published tankōbon format. These magazines are commonly published in roughly phone-book size, and come often with furoku. They can be circulated at various times, such as bi-weekly, quarterly, and monthly. Several magazines outside of Japan feature shōjo manga, like Viz Media's Shojo Beat or Tokyopop's Smile.
Shōjo magazines first appeared around 1903 with publications such as Shōjo Kai, Shōjo Sekai, and Shōjo no Tomo. The manga began to disappear with World War II approaching. Many popular postwar manga include, Shosuke Kurokane's Anmitsu Hime, and Osamu Tezuka's Princess Knight. Read more...
How to help
All pages can be edited and you are welcome to join us and contribute to this wiki. Everyone is free to create a new page or edit an existing one. If you have any questions about the wiki or helping out, you can ask one of Shōjo Manga Wiki's administrators.
If you are new to wikis, you may want to read the help page.
A list of all help pages can be found in .
If you want to help but you're not sure where to start, try improving the various articles by expanding them.
Another helpful activity would be to check the list of wanted pages for frequently linked-to articles that don't exist yet.
You can find a list of useful templates on .
If you want to experiment with editing a wiki, please do it in a

sandbox

, not in articles.
New and upcoming shōjo
New and upcoming releases
Featured manga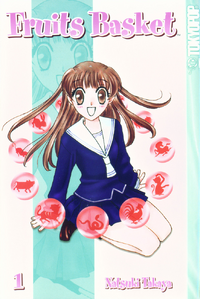 Fruits Basket (フルーツバスケット Furūtsu Basuketto), sometimes abbreviated Furuba (フルバ), is a popular Japanese manga by Natsuki Takaya. It was published in the semimonthly Japanese magazine Hana to Yume by Hakusensha from 1999 to 2006. The series was also adapted into an anime series, directed by Akitaro Daichi. Several drama CDs, artbooks, fanbooks, and various toys of Fruits Basket have been released.
The series tells the story of Tohru Honda, an orphan girl who, after meeting Yuki, Kyo, and Shigure Sohma, learns that thirteen members of the Sohma family are possessed by the animals of the Chinese zodiac (十二支 Jūnishi) and are cursed to turn into their animal forms when they are weak or when they are embraced by anyone of the opposite sex that is not possessed by a zodiacal spirit. Read more...
Poll