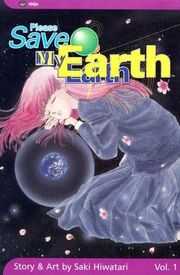 Science fiction is a genre dealing with imaginary but more or less plausible content such as future settings, futuristic science and technology, space travel, parallel universes, aliens, and paranormal abilities. Exploring the consequences of scientific innovations is one purpose of science fiction, making it a "literature of ideas". Science Fiction has been used by authors and film/television program makers as a device to explore more wide ranging philosophical subjects such as identity, desire, morality and social structure etc.
Science fiction is also sub-genre of shōjo manga, but rarely used as the main theme of the story. Some examples include, Please Save My Earth, A, A Prime, and Jyu-Oh-Sei.
General examples
Edit
See also: Category:Science fiction manga
A time setting in the future, in alternative timelines, or in a historical past that contradicts known facts of history or the archaeological record.
A spatial setting or scenes in outer space (e.g., spaceflight), on other worlds, or on subterranean earth.
Characters that include aliens, mutants, androids, or humanoid robots.
Technology that is futuristic (e.g., ray guns, teleportation machines, humanoid computers).
Scientific principles that are new or that contradict known laws of nature, for example time travel, wormholes, or faster-than-light travel.
New and different political or social systems (e.g. dystopia, post-scarcity, or a post-apocalyptic situation where organized society has collapsed).
Paranormal abilities such as mind control, telepathy, telekinesis, and teleportation.
Other universes or dimensions and travel between them.