LaLa is a monthly Japanese shōjo manga magazine published by Hakusensha. The magazine is published on the 24th of each month. The magazine's bonus content are usually calendars for New Year issues, drama CDs and so on. The magazine was ranked fifth together with Shogakukan's Shōjo Comic and Kodansha's Weekly Shōnen Magazine by Japanese girls as their favorite manga anthology in a survey conducted by Oricon in 2006.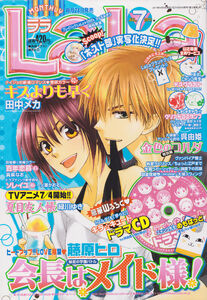 LaLa is the second shōjo manga magazine that Hakusensha published. Series' that are serialized in LaLa is collected into tankōbon under the label, Hana to Yume Comics (花とゆめコミックス), together with other Hana to Yume serialized manga. Fanbooks, illustration books for the serialized series' are published under the Hana to Yume Comics Special (花とゆめコミックススペシャル).
Readers of the magazine are 97% female while the other 3% are male readers. Its age demographic consists of 4% percent for under-13 readers, 23.4% for readers aged 13–17, 20% for readers aged 18–20, 13% for readers aged 21–23 while the remaining 29.7% of the readers are aged 24 years old and up.[4] Readers aged 24 and up are the demographic of the highest percentage
LaLa began its publication in July 1976 as a sister magazine to Hana to Yume as Hana to Yume LaLa (花とゆめ LaLa) which was published bi-monthly. The magazine's first publication featured Ryōko Yamagishi's Hana no Seitachi (花の精たち) and was priced at 290 yen. The magazine's first editor in chief was Nobumasa Konagai. The current editor in chief is Ikushū Ichikawa.[5]
Then in September 1977, the magazine changed its frequency and became a monthly magazine. It then became its own independent magazine with a sister magazine of its own, LaLa DX.
In 1985, Hakusensha started publishing special publications of LaLa that was published irregularly under different titles over the years. It first started with LaLa Deluxe that was published seasonally. It later became the magazine's sister magazine, LaLa DX.
Since LaLa Deluxe had been published, various special publication or supplement issues had been published. Bessatsu LaLa: Bessatsu RaRa (別冊LaLa : 別冊ララ) was the first published supplemental issue for LaLa. It was first published in the summer of Shōwa 57 and ended in Spring of Shōwa 59.[6] Bessatsu LaLa (別冊Lala) had succeeded Bessatsu LaLa: Bessatsu RaRa and was published bi-monthly from 1984 to 1985.[7]
My LaLa, a special edited compilation of the magazine was published from the Autumn of Shōwa 59 to the Spring of 1985.[8] LaLa Special Wendy (LaLaスペシャルWendy) was published first in Summer 1985 and its last issue was on June 1986 with a total of 5 issues.[9]
LaLa Special Cindy (LaLaスペシャルCindy) was then published to replace LaLa Special Wendy. The first issue for LaLa Special Cindy was published from Summer 1986 to Autumn 1986. It was later revived for 2 issue which were published from Autumn to Winter of 1987 issue.[10]
Since 2004, the special publication or supplemental issue of LaLa has been published as LaLa Special which serializes LaLa's side stories of the related series as well as featuring various manga artists' one-shots.